Is

NOW

the Time for you to buy a home? Find out here and get ready for the easiest possible process!
Explore the site NOW Enter Code Here Contact Us!
If you dream of buying your next home, below you will find a collection of tools, articles, etc to evaluate your situation. And, if the time is right for YOU, learn how to make your own dreams a reality!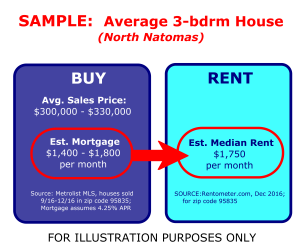 Many believe that renting is always cheaper than buying. You might be surprised! In California, the opposite is often true. See the example in North Natomas (zip code 95835) in December 2016. You could buy a house with a monthly mortgage of $1500. Or, rent the same house for $1,700! Buying CAN be cheaper.
Explore this site to learn more.
---

---
Start here to learn more about an area of interest:
---
Are you unsure of what to do next?  If the thought of paperwork overwhelms you…  If you have ANY questions:
Or quickly jump to a specific topic for more:
---
Are you ready to make the leap? Here at Home Forward, we strive to make the process is easy and as comfortable as possible. To start, feel free to:
DO YOU WISH...
You could install a gourmet kitchen?
Maybe paint your walls a cool color?
Plant a fresh herb garden?
Or, let your dog roam around her own yard?
When you own your home … you can!